Persuasion Dedication Calligraphy Exhibition
Sponsor / Omotoyama Matsuodera
Matsunoo-san Matsuo-dera is Japan's oldest evil remnant, with the evil relics as the main object.
The emperor of Emperor Tenmu and his son Toneri shinno wished for the completion of Nihon Shoki and the end of the 42-year-old year, trained at Mt. Matsuo, successfully fulfilled the aspirations, and founded Matsuo-dera.
Persuasion Dedication Calligraphy Exhibition
Sponsor / Omotoyama Matsuodera
November 1 (Fri)-10 (Sun) 9:00-16:00
Yamato Matsuo-dera (683 Matsuoyama, Yamato-cho, Yamatokoriyama, Nara Prefecture)
Exhibition (dedication) qualification
Anyone is welcome to participate regardless of age. However, the screening will be conducted for elementary and junior high school students.
A: part (136 cm long and 35 cm wide)
(A) Free assignment
B: part (within 72 cm by 20 cm)
(A) Free assignment
(B) Specified tasks (1 of the following) Primary schoolchild (one year-two years) "matsu" Elementary school students (3 to 4 years) "Yakuyoke" "Yakujo" Elementary school student (5 to 6 years) "Matsuo yama" Junior high school students (1 to 3 years) "buji","yakujyo","inochi"
C: hanshi(within 35 cm by 25 cm)
(A) Free assignment
Exhibition (dedication) fee
Exhibition (Dedication) points
One person, one point only (does not return)
Exhibition (dedication) reception period
September 15-30* Strict adherence
Be sure to write the surname or first name with the brush on the work.
List of Exhibits and Exhibits (Dedicated)
Create an exhibition sheet of the specified dimensions, mark the upper and lower joint contents, and attach it to the lower right corner of the work (see the figure below) without separating it. The same is true for dedication. Also, please be sure to include an exhibition (dedication) catalog along with the exhibition work.
(Incidentally, there is no need to have a catalog if you are selling individually.)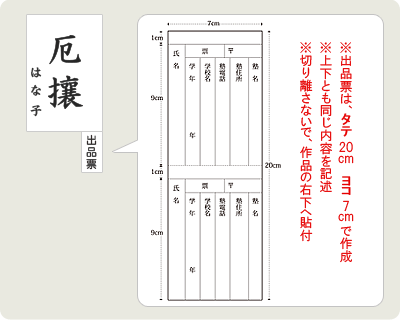 (When printing out, please output in "actual size")
Omotoyama Matsuo Tera, other members
Yamato Matsuodera Prize …
[A section] 6 people
[B section] (I) 6 people (B) 6 people
[C section] 9 people
・ Special selection … 10% of the exhibition points
・ Selection … 30% of the exhibition points
・ Participation prize … Special work, works other than winning a prize
※ Yamato Matsuodera Award, specials, winners will receive a certificate and prizes.
A certificate will be presented for the participation award. We will present souvenirs to all exhibitors (including votives).
※ The Yamato Matsuodera Prize and selected works (about 1000 points) will be displayed on the wall. Other works will be displayed on the desk.
It will be replaced by sending a certificate, prizes and souvenirs.
Exhibit (dedicated) work submission
Please bring in Yamato Matsuodera or by mail / delivery.
639-1057 Yamada-cho, Yamatokoriyama, Nara Prefecture 683 Matsuoyama
Yamato Matsuodera Honbo Temple Office |Telephone: 0743 (53) 5023
Calligraphy Exhibition Office | Phone: 0743 (52) 8816
※Please contact the Honbo temple office when you are not connected.