Thousand Handed Kannon Statue Torso
(The Secret Buddha / 8th Century Nara Period)
[Public] September 1-November 10
Secret buddha
"Enno gyojya"
Special opening
Published: September 1-7
Location: Gyojyado
Admission fee: 300 yen
The largest Enno gyojya in Japan and the pre- and post-mons will be released only during the Shugendo Festival period.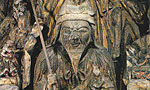 Secret buddha
The evil vantage
Special opening
Published: November 3
Place: Hondo
Admission fee: 300 yen
The amulet of the Honson is a Senjyu sengen kanzenon bosatsu(a secluded Buddha), equipped with the power of vast mercy that can not be planned, and in particular, it was a relic. It will be transmitted.